The Public Works Department provides streets, utilities, transit, sewer, and disposal services.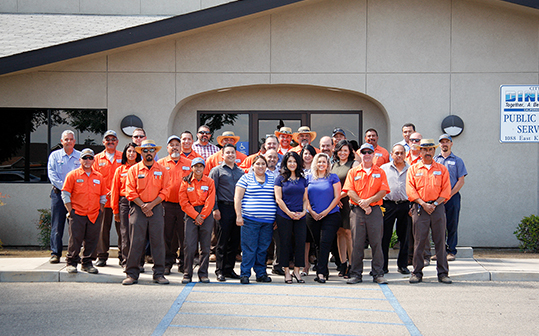 Introduction
The Dinuba Public Works department maintains streets, storm drains, streetlights, traffic signals, sidewalks, water treatment/distribution, recycling and Capital Improvement projects.
Public Works Services
STREETS/RIGHT-OF-WAYS




Maintains streets, traffic signs and traffic signals to promote safe and effective thoroughfares, throughout the community.

WATER SERVICES




Manages operations and maintains the city's water supply and distribution system, providing high-quality water at the lowest possible cost.

SEWER COLLECTION




Maintains, operates and repairs the sewer and storm drainage systems to provide a safe and clean environment for our community.
PUBLIC TRANSIT

Local public transportation is available in and around Dinuba and other regional areas.

DISPOSAL

Coordinates clean and reliable commercial and residential disposal services.

FLEETS & FACILITIES




Services and maintains city vehicles and equipment, while managing purchases and replacement.
More Information
---
Bike Safe Dinuba
Making roads safer with education and strategic bike routes.