Local public transportation is available in and around Dinuba and other regional areas.
Information
Dinuba is located just 12 miles East of HWY 99 from the Mountain View exit. Dinuba's main arterial roads are Alta Ave. (Road 80) which runs North to South, and El Monte Way (Ave 416) which runs East to West.
Local public transportation is available via the Dinuba Area Regional Transit (DART). Click the link below to download the transit guide.
For more information call (559) 372-2290.
Dinuba Connection Summer Schedule 2017
Transit Services
DINUBA AREA REGIONAL TRANSIT (DART)

Dinuba Area Regional Transit (DART) Transit Guide
TULARE COUNTY AREA TRANSIT (TCaT)

TULARE INTERMODAL EXPRESS (TIME)

ADA & MILLITARY DISCOUNTS
More Information
The Dinuba Transit Center offers the following City services:
Transit Service
Housing Program
1st Time Homebuyer Program
Housing Rehabilitation Program Accepting Utility Payments
Cooling Center
Free WiFi
Park & Ride
Notification of Rights Under Title VI
View Notification of Rights Under Title VI
Bus Advertising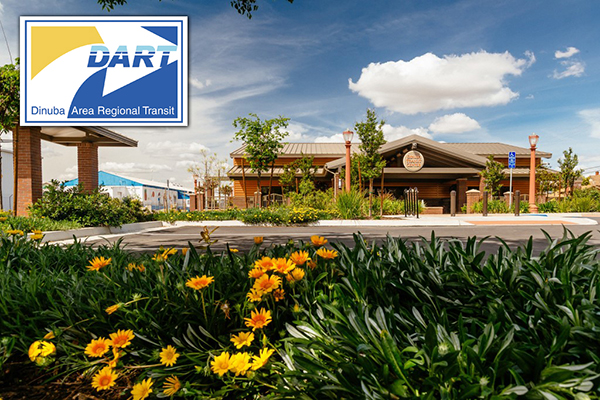 Dinuba Area Rapid Transit offers excellent opportunities for promoting your business with our "Ads on Buses" program. Receive excellent exposure throughout Dinuba and Reedley, by placing your business's ad on one of our buses.
If you are interested, you can contact Loops Marketing for these opportunities by visiting them online at: https://www.loopsmarketing.com/dart.html - or by calling them directly at (559) 372-9101, or emailing them at info@loopsmarketing.com.
There are numerous advertising options to fit within any budget! For rate information, please visit Loops Marketing's website link above.

We look forward to working with you, and promoting your business!