Note: This page will be updated as information changes
The City encourages the community to stay informed, practice good hygiene, be aware, and be prepared. As a community we are in this together; stay calm and help each other by staying home if you are sick, check in on your neighbors, and continue to slow the spread of COVID-19 by using best hygiene best practices.
The City of Dinuba's water supply has not been affected. Your water delivery remains CLEAN, SAFE, RELIABLE, and

DRINKABLE

.

Read More
STAY INFORMED & BE PREPARED
State Stay at Home Order 03-19-2020
Centers for Disease Control & Prevention (CDC)
Tulare County Department of Health and Human Services
CA Department of Public Health
The California Department of Public Health (CDPH) issued an advisory earlier this week that events with 50 people or more should be postponed or canceled and gatherings of people at higher risk for severe illness from COVID-19 should be limited to no more than 10. The state, counties and cities have either postponed or cancelled a myriad of events in an effort to mitigate the spread of the coronavirus. Dinuba Unified School District cancelled all sporting events and outside field trips. Visalia Unified School District announced today that they will be suspending classes through April 13, 2020.
The immediate risk of being exposed to this virus is still low for most Americans, but as the outbreak expands, that risk will increase. Cases of COVID-19 and instances of community spread are being reported in a growing number of states. Following recommendations from the California Department of Public Health (CDPH) in response to the COVID-19 (Coronavirus) pandemic, and in a collaborative effort to protect and preserve the health and well-being of the community, the City of Dinuba is issuing the following operations update.
OPERATIONAL CHANGES TO CITY SERVICES
UPDATE: March 19, 2020 - In an adundance of caution, City Manager Luis Patlan signed an executive order declaring a State of Emergency for the City of Dinuba today pursuant to Section 9.14.030(b) of the Dinuba Municipal Code. This declaration is made in an abundance of caution and will allow the City of Dinuba to access any available emergency funds and resources or take any necessary action locally during the coronavirus (COVID-19) crisis. The City's Emergency Operations Center has also been placed in a state of readiness in order to respond to any critical needs that may arise and to coordinate with county, state and federal agencies.
At this time, the City has made some temporary operational changes as recommended by the Tulare County HHSA, Centers for Disease Control and Prevention (CDC) and the California Department of Public Health (CDPH):

UPDATE 03/20/2020

.- All City events and public meetings closed to the public until further notice.
All essential services such as public safety, water, sewer, and disposal services are fully operational
Parks and playgrounds:

UPDATE 03/20/2020

.- Closed per State order.
DART Transit systems:

UPDATE 03/16/2020

- No more than 8 passengers at a time on buses.
After School Programs:

UPDATE 03/16/2020 -

After School Programs cancelled until school resumes
Utility Billing (City hall):

UPDATE 03/19/2020 -

Effective Friday, March 20, 2020 - In order to prevent the spread of COVID-19, the City of Dinuba will be temporarily closing public access to City facilities until further notice. Utility payments can be made with a credit or debit card online at Dinuba.org or by phone (559) 591-5900, drop-box (Personal Check, Money Order, or Cashier's Check only.NO CASH), or mail in payment options (include bottom portion of bill). Ambulance payments not available online..
Ambulance Billing (City Hall):

UPDATE 03/19/2020 -

Effective Friday, March 20, 2020 - In order to prevent the spread of COVID-19, the City of Dinuba will be temporarily closing public access to City facilities until further notice. Ambulance payments can be made with a credit or debit card by phone (559) 591-5900, drop-box (Personal Check, Money Order, or Cashier's Check only.NO CASH), or mail in payment options (include bottom portion of bill).
Baseball Practices:

UPDATE: 03/31/2020

- Youth Baseball and Softball season has been cancelled. All participants will receive a full refund. All refund checks will be sent to the address provided on the registration form. As we will be processing a high volume of refunds, it may take between three to five weeks for you to receive it. If you have any questions regarding your refund please call the Community Service Department at 591-5940.
Dinuba Sportsplex: Closed until further notice
Leisure classes: Postponed until further notice. (Contact your instructor)
Dinuba Senior Center: Closed (Programs Postponed) until until further notice
Ridge Creek Golf Course:

UPDATE 03/23/2020

- Closed until further notice.

Restaurant open for pick up orders.

All City sponsored community events postponed through until further notice.(Spring Fling and Chamber Business Expo postponed)
These operational changes will be in effect until further notice, or until otherwise amended.
Internally, the City is taking advanced cleaning measures, communicating best practices frequently with employees, and is making every attempt to avoid critical organizational and community disruptions. Staff is also working closely with local health organizations, businesses, community groups, and schools to ensure a collaborative effort to respond to, and lessening the spread and impact of this public health threat.
The CDC and local health partners are asking everyone to do their part to help us respond to this emerging public health threat. Although tensions surrounding this pandemic are high, we can all do our part by following the CDC's recommendations for Preventing the Spread of Coronavirus Disease 2019 in Homes and Residential Communities
SIMPLE, PREVENTATIVE ACTIONS YOU CAN TAKE

NOTICE: Please inform 9-1-1 dispatch if you are experiencing fever, coough, shortness of breath, or any other flu-like symptom during an emergency response call.
Do:
Stay home
Avoid gatherings of 10 or more people
Avoid close contact with people who are sick.
Avoid touching your eyes, nose, and mouth with unwashed hands.
Wash your hands often with soap and water for at least 20 seconds. Use an alcohol-based hand sanitizer that contains at least 60% alcohol if soap and water are not available.
Don't:
Shake hands
Touch your face
Go to the doctor if you aren't sick
Stockpile masks or gloves
If you are sick:
Stay home and CALL your medical provider
Cover your cough or sneeze with a tissue, then throw the tissue in the trash.
Clean and disinfect frequently touched objects and surfaces.
Contact your medical service provider if you think you are experiencing symptoms and would like to be tested.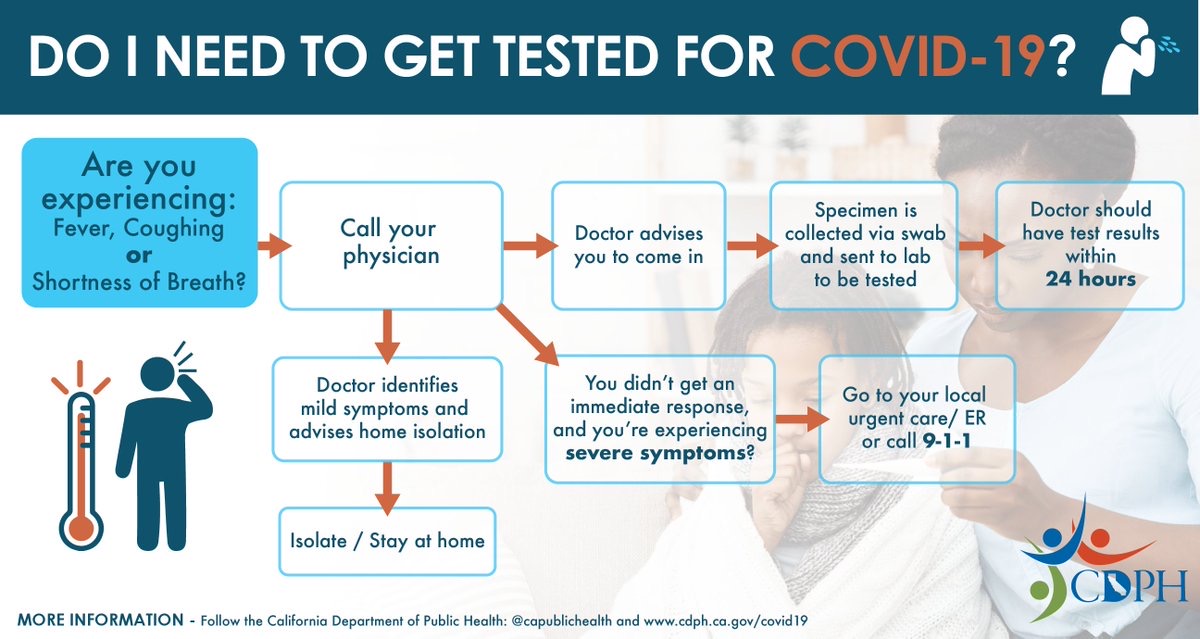 PARENTS & STUDENTS
Helpful Educational Learning Resources
NOTICE: Tulare County Public Libraries (Including Dinuba) are closed from March 17-31, 2020
Adjustments to the school schedule are listed below:
Monday, March 16-Friday, April 3 Non-student days
Monday, April 6-Monday, April 13 Regularly scheduled Spring Break
Tuesday, April 14 -Students tentatively return to school
Meals will be available on weekdays beginning March 16-April 3, similar to the summer lunchprogram.
Any person, age 19 and under, is eligible to "pickup" a meal.
Details on locations and times will be available on our website.
Social and emotional support services will be available on an on-call basis between March 16and April 3. Please contact the district officeat 595-7206 if services are needed.
Information regarding school closures and services can be found on the Dinuba Unified School District Website.
BUSINESSES & EMPLOYEES

The U.S. Small Business Administration (SBA) anticipates funds will become available to help small businesses in California affected by a slow economy due to the coronavirus outbreak. More information is available at www.sba.gov. In the meantime, the SBA provides information on Economic Injury Loans as well as the SBA's disaster assistance offices' Preparedness and Recovery fact sheets. The CDC has also put out guidance for businesses to help prevent exposures to respiratory illnesses, including COVID-19.
Updates and Resources from the Workforce Investment Board about COVID-19 in Tulare County can be found HERE.
If you have lost work or have had your hours reduced we encourage you to apply for Employment Development Department (EDD) Unemployment Insurance (UI). In California Governor Newsom has waived the one-week waiting period for benefits and is looking at expanding UI claim offerings. For comprehensive guidance and resources about state benefits related to employment and COVID-19, we highly recommend this FAQ page from EDD.
Benefits to Those Quarantined or Sick:
Paid sick leave law provides time off to many workers. You are entitled to use whatever sick leave you have accumulated.
California law provides for paid family leave, which you may be eligible for if you are providing care for an ill or quarantined family member. In the event of a particularly long illness, you may be eligible for disability benefits, provided your illness is certified by a medical professional. If you were exposed to COVID-19 while on the job and in the course of your regular duties, you may also qualify for workers' compensation.
UPDATE: 04/03/2020 - Wal-Mart Changes Shopping Procedures
OTHER RESOURCES
To Report Consumer Fraud (Price Gouging), fill out the form - DOWNLOAD COMPLAINT FORM HERE
Phone (559) 636-5410, Email TCDAConsumerProtect@co.tulare.ca.us